Intex Ultra XTR Rectangular Pool Set 26378
Intex 26378 Ultra Frame XL rectangular above ground pool with volley net, skimmer, ladder, chlorinator, cover, maintenance kit and bottom sheet, for your summer fun with family and friends, perfect for pool parties. 
Intex 26378 (former 26376) Ultra Frame rectangular above-ground pool is easy to assemble, thanks to a new system which does not require any clips to connect the metal parts. Its elegant grey colour enhances the design of this pool, which is extremely strong, flexible and durable.
Thicker than tradition models, it ensures a higher resistance to water, making this product more durable. All edges are rounded and smoothed for the safety of your children. The PVC features the special Super Tough™ technology and consists of three layers:  an inner layer and an outer PVC layer, both thick and resistant, and an intermediate layer of polyester.

The sand pump is the best combination of filtering, cost optimization and pool water cleaning.

The filter (26680) is provided with a 6-function valve:
filtering
backwashing
rinsing
recirculating
emptying
stopping
The latest generation chlorine generator with algaecide system uses two different technologies to sanitize the pool.
During the filtering process, the unit produces, through titanium plates, natural and safe chlorine which is barely perceptible by bathers.
The pool is sanitized simply by pouring non-iodised salt in the water, thus allowing electrolytic cells to produce chlorine. Moreover, the chlorine generator includes the copper ionization function, through which highly bactericidal and algicidal ions are released to treat and disinfect the water.
Technical Characteristics:


Intex 26378 Ultra Frame above-ground pool
Easy to assemble and disassemble, thanks to a new system that does not require any clips to connect metal parts.
Treated steel rectangular frame resistant to rust and corrosion.
It is made of Super Tough™ PVC, consisting of three layers: an inner layer and an outer PVC layer, both hick and resistant, and an intermediate layer of polyester.
Measures: 975 x 488 x 132 cm



The pool will be supplied with the following accessories:
10.000 L/h sand filer pump for water filtering (recommended for this pool 5/6 hours a day)
Ladder
Cover
Base cover
Deluxe Cleaning Kit with skimmer included
Volleyball set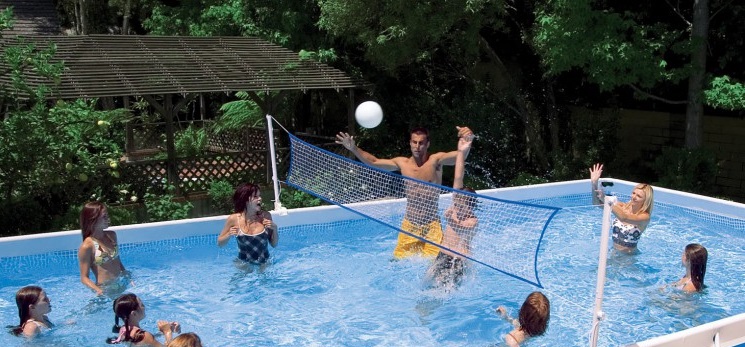 Size:


Pool: 975 x 488 x 132 cm
Bottom: 1036 x 544 cm
Water capacity: 54.368 L at 90%